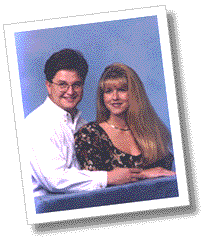 Who Are We?
Bret and Lori met at San Diego State University in 1988. Bret thought Lori was cute (what was he thinking?). We married in August of '92. After living in an apartment and a condo, we made the move to a house in Ramona, CA - out in the country. We have a nice new home in the Country Estates area, where we live with our pets Scooter, Misti, and Shelby.
Bret works as an instructor for Vortex Data Systems, focusing on SQL Server and Development classes. You can view Bret's resume on-line.
Lori is semi-retired. After doing the 8 - 5 'er and the part-time work at home, she has opted for a more comfortable housewife position. She dabbles in tutoring math and projects around the house.

More About Us:
We just bought some new watercraft last summer ('99). Our new sea doos are fantastic fun! We keep ourselves busy every weekend at the bay or the reservoir during the warm months.
The 2000 New Year's was a blast at Yosemite.
Here we are toasting the midnight hour in our condo.

This is at Olmstead Point in the high country. It was very cold as you can tell...

.

Here we are with our friends Kristi & Todd ice skating in the outdoor rink.
To see more pictures of our millenium trip, we have a more detailed trip report.
---
©1997 By Bret & Lori Stateham

Send questions to bret@stateham.com