Ray Stateham's Home Page
Dad (Ray) passed away peacefully in his sleep March 2nd 2008. So may many people have accessed information on this home page that I am keeping it active for a while.
Thank you to the many people who have offered their condolences.
George Stateham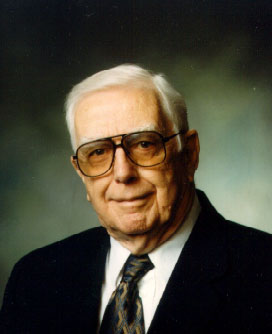 In loving memory
Ray Stateham
1/11/1923 - 3/2/2008
Summary:
Retired from the U.S. Bureau of Mines, he was avid reader on many subjects especially history and biographies, and to a lesser extent fiction and, theology. Ray had multiple interests and was available to discuss almost anything. Sometimes he liked to know a little about the subject, but didn't let that stop him. :-) He was a widower for 8 1/2 years after Millie's death in 1999, and lived independently in his house in Kentucky.
Genealogy:
One of the things that kept him busy since retirement was compiling the genealogy of our family. It seems the longer he worked at it the harder it got. This is not because he was less able but is because there is less new information to find, and more importantly the remaining data is in more obscure locations.
Lewis and Clark:
As mentioned above, he loved history. Some time ago, he became intrigued with the idea of following the Lewis and Clark route from Saint Louis to the Oregon coast. After pouring over every book to be found on the subject he carefully mapped his trip and made it in the summer of 2001.
Many people make the trip, but most follow the interstate or other major highways. He took back roads, staying as close to the rivers and their original route as roads, paths as his small SUV made possible.
He wrote a journal based on extensive notes he took along the way. It is a compilation of daily notes, impressions, and experiences, not all of which are directly related to Lewis and Clark. It is available on line (MS Word file) by clicking this link.
He loved to travel and the Georgetown News-Graphic did an article about him and some of his travels in July 2004. Unfortunately, it is no longer available on their web site, so you will just have to take my word for it.
George Stateham
E-mail me at george@stateham.com
A copy of his obituary follows:
Raymond Maddox Stateham
GEORGETOWN - Raymond Maddox Stateham, 85, widower of Mildred Welcher Stateham died Sun, March 2, 2008 at his home. A native of Keller, TX, he was the son of the late Burl B. and Georgia Maddox Stateham and was a graduate of the New Mexico Institute of Mining and Technology. A Geophysicist, he was retired from the US Bureau of Mines and was instrumental in developing Mine Safety techniques for the U.S. Government and also Great Britain. He was the recipient of a Meritorious Service Award from the Secretary of Interior of the United States. He was a member and deacon of the Mallard Point Baptist Church. Survivors include a son and daughter in law, George M. and Lynn F. Stateham, New Bern, NC; three grandchildren, Rebecca Darrah, Cypress, CA, Stacy Stateham, Rockford, IL and Bret Stateham, San Diego, CA and 6 great grandchildren. Funeral services and burial will be Sat, March 8, 2008 in Keller, TX. Visitation will be 5-7pm Tue at Johnson's Funeral Home. In lieu of flowers, contributions may be made to the Mallard Point Baptist Church, 3580 Cincinnati Road, Georgetown, KY 40324.