The Better Late Than Never Cruise Trip Report
Short Version: We departed from New Bern, NC February 19, 2004 and returned June 5 covering over 2,000 sea miles and getting as far south and east as Staniel Cay in the Bahamas Exuma chain.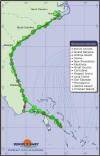 Click on map to see larger version of our route
Pictures are available at these two links. Up and down the ICW. In the Bahamas
Longer Version: Finally we used Sunspot Baby for her intended purpose and spent about 4 months cruising. The real plan was to embark in the late fall, but with business commitments, selling one house and buying another, and moving it was mid February before we were able to leave. Thus the title Better Late Than Never.
Both going south and returning we transited the Intracoastal Waterway (ICW). Our target destination was the Exumas, a chain of islands in the Bahamas. If sailing, it is best to cross the Gulf Stream before turning south. Since we were new to cruising we didnít want to bite off too much too soon so we took the easier although much slower path and motored all the way down the ICW. With short winter days we only targeted to make about 40 miles per day although often we did more.
Toby, our Entlebucher (see www.stateham.com/toby), traveled with us and our evening stops needed a way to get him ashore to do his business. This reduced the number of good anchorages for us and caused us to stay in marinas many more nights than planned.
We encountered some pretty cold weather headed south. At one point we tied to a dock for three days in Georgetown, SC so we could hook up shore power and run the heater through the night. We were anxious to go and left a day too soon. We spent a miserable day and worse night, but the weather then warmed up and we were soon wearing shorts. It helped us appreciate the great temperatures we experienced the rest of the trip.
By and large, we loved the ICW. The scenery, houses, other boats, bridges, and wildlife were all interesting. We can see why so many power boaters make the ICW their cruising grounds. A power boat with higher speed would be very nice. We averaged about 6 knots. Going down we were in a bit of a hurry and pushed the engines a little harder than we would while in the Bahamas or returning.
The ICW was much less enjoyable as we got further south in Florida. It becomes little more than a concrete ditch and the power boat wakes rebound off the walls creating the most uncomfortable conditions of our entire voyage. The number of bridges and their restrictions increases exponentially as well and making progress is tougher.
We expected to make some repairs before crossing to the Bahamas. The boat had been only lightly used for almost three years and we expected a few problems to arise as we started using it continuously. We had a reluctant starter before we left and developed an alternator problem on the other engine along the way. There was no weather window in sight and so we picked up a mooring in Stuart and took care of the repairs and replaced all our batteries while we were at it.
Finally on April 6 we were in Biscayne Bay at No Name Harbor, staged to cross, and a weather window opened. We made a night crossing leaving about 2:00 am on the 7th. The wind was on the bow so we motored and only averaged about 4 Ĺ knots going across. On top of everything else, George got queasy, so Lynn took the helm and stood the watch.
We arrived at Bimini mid-morning and had no problems checking in with Customs and Immigration. A cruising permit now costs $300 which isnít too bad if youíre spending months there but the increased cost has the ire raised on those weekend and short vacation cruisers.
It is a long haul from Bimini to New Providence and we spent two nights anchored on the banks in transit. It could be done with only one night, but we made a leisurely departure from Bimini the day after we arrived and that cost us the extra day. The crossing was great and we had calm conditions for our two nights on the hook. By standing watches, we could have sailed straight through but remember that this being our first year, crew comfort was a prime consideration. Not so much physical comfort as operating within our comfort zone.
We hit a couple of places most cruisers skip in the rush to get south. The first is Old Fort Bay near the west end of New Providence. We had a couple of lovely days and three nights there. A forecast weather change caused us to head for Nassau to ride out a front in protected conditions.
Nassau is a busy port with cruise ships, freighters, ferries, yachts, fishing boats, para-sailers, booze cruises, and even sea planes coming and going constantly. Holding is notoriously bad for anchoring in Nassau and there were a lot of other boats already crowding the bettor anchorages. Marinas were crowded but we managed to beg our way into Nassau Yacht Haven, a marina we highly recommend.
We rode out another front at the same marina as we were headed north. Nassau is one of those places you will either love or hate. A lot of cruisers are down on it, but we enjoyed our time there. There is a lot to do, there is a great supermarket for those forgotten provisions, and the people were extremely pleasant. The city has a reputation for crime and this is apparent at the shops where you have to ring a bell and be buzzed in.
We locked our dinghy to the boat as we had read dinghy theft is a big problem but few others in the marina did. I suspect unattended boats in an anchorage might have more of the problem.
After leaving Nassau, we hit another oft skipped spot, Ship Channel Cay. We virtually had the island to ourselves and only two other boats anchored, one each night, while we were there. Both were in transit and gone early so we had the beaches to ourselves. There is a beach owned by Power Boat Adventures at the south end, but we were far enough away that we only occasionally spotted a boat coming or going.
We skipped one of the more popular stops, Allenís Cay, where the famous iguanas live. We thought Toby might be a little too interested in the iguanas and we didnít want him to harass them.
We stopped a Normanís Cay, a popular stop with many other boats anchored.
We enjoyed the Exumas Land and Sea Park and stopped at Warderick Wells coming and going. We spent several days on a mooring at Compass Cay, a privately owned island, to let a front move through. It is a nice stop which several cruisers use as their destination. They make it that far south and stay at the marina or on a mooring for months.
We had tentatively planned to get to Black Point or even George Town on our abbreviated cruise but all the time lost waiting for weather caused us to settle on Staniel Cay as our turn around point, another great spot we would recommend to anyone.
We hoped to travel via Eluthera and the Abacos on our return route, but as stated above, we went back into Nassau to ride out a very windy high pressure system.
From Nassau to Lake Worth Inlet (Palm Beach) we traveled 182 sea miles in 26 hours. It was only one night, but the watch system went pretty well.
Entry back into the good old US of A was easy. Customs was simply a phone call and immigration is at the cruise terminal. We anchored nearby to clear in.
We seriously considered gong back ďoutsideĒ but opted to return home up the ICW. We made our re-entry north of the concrete ditch and frequent bridges. That and the fact of longer days meant we could make a lot more miles per day going north than we did going south. We also did not run the engines as hard.
We thought once we got near home, we would be like an old horse headed to the barn, but we werenít. In fact, at 1:00 pm only about 3 hours from our slip, we opted to stop in Oriental and spend a night tied to the town dock, thus extending our voyage one more day.
We sampled the local foods at cafes and restaurants along the way, especially the conch. Mostly, however, we ate the wonderful meals from our own galley. Amazingly, neither of us gained weight although we denied ourselves little.
We are in love with the clear waters, sparsely inhabited islands, and people of the Bahamas. We will certainly cruise there again, maybe many times. We expected to meet nice people on other boats and were not disappointed. We even met several neighbors from Fairfield Harbour.
What a great first cruise it was. We look forward to boring family and friends with all the details until we leave again, hopefully the fall of 2004.
George and Lynn Stateham
sunspotbaby@stateham.com
george@stateham.com
lynn@stateham.com